Shipping and deliveries are something we take quite seriously because it causes you and us problems when it goes wrong.
Take the time to read this and not be in the "1%"!   If in doubt call us.
We almost exclusively ship all product shipments using "The Pallet Network" or a similar pallet network groupage haulier.
These are 3rd party hauliers who operate a kerbside tail-lift delivery service. This is not a mechanical offload service.
The product is shipped on wooden pallets in boxes unless agreed before shipment with you.
Our standard UK Mainland (excluding Scotland) shipment charges are based on a 2 working day from point of dispatch on a 9am-5pm delivery service. You will be called, emailed or texted on the day of shipment to let you prepare to have someone present on site ready for collection unless you specify 'Can Leave Safe'.
You should not book builders until you have received the goods at site. We cannot be held liable for liquidated damages as a result of delayed shipments.
If you must have product by a certain date you should call us to confirm stock levels before placing your order.
 What time is your delivery due?
Shipments are 9am-5pm typically but if you can't wait in all day call us 10am on the day of delivery and we can get an approximate ETA for you from your local courier.
This will be delivered by a man with a manual pallet truck lowered to the floor on a tail-lift.
You must have a 'hard-standing' i.e. a tarmac drive and not a gravel drive for him to be able to pull that heavy pallet onto.
You should also notify us if you live down a
narrow lane
on the side of a hill
in a hard-to-find place
where there are road restrictions
etc.
We can see if it is feasible to get an artic lorry to your address under the normal shipping costs or, if not, we will price accordingly.
 Will the delivery driver carry it upstairs?
Simply put – "No".
All our standard shipments are made through a Pallet Network.
This type of service is a 'Kerbside Delivery' only. They are not obliged to take it any further than the kerb and you may, if the project site is well away from the position the driver can park, have to carry the boxes / products off the pallet and to the work area.
We package brick slips and products in boxes so that you can carry them safely but you should be prepared to carry items or have i.e. sack trolleys etc.
It can help if you can visualise how big and heavy the shipments are so that you can see why poor planning can cause issues on delivery.
Typically every box of slips (1/2M2) is about 15KG and corners are c. 1KG.
If you order 20M2 you will receive a pallet of boxes weighing approximately 600KG (about seven people in weight).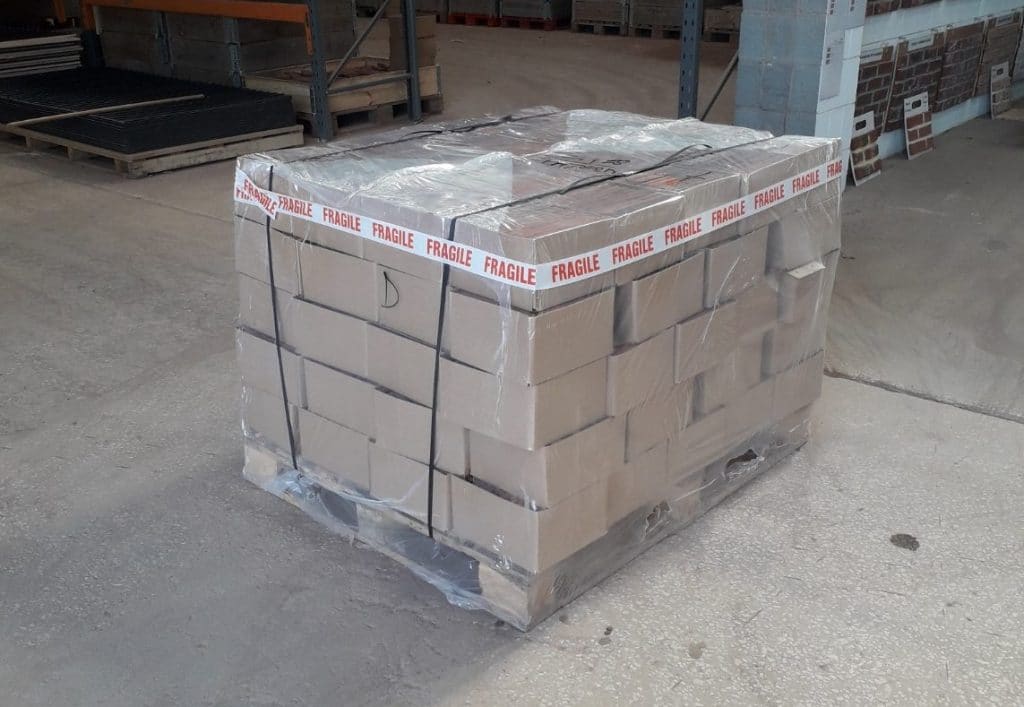 It is rare but accidents happen.
Your order should arrive on a pallet. If you can't see a pallet with a heatshrink bag over the top and fragile tape warning bells should sound. We always ship on pallets and couriers in their wisdom sometimes remove them even though they shouldn't.
If you suspect that the product has been damaged in transit photograph the product as it arrived. You should also put a note on the couriers paperwork to say it looked damaged on arrival.
You should then inform us (send us your evidence) so we can start the claim process with our courier and issue replacements/credits where applicable.
We go to great lengths to try make sure that deliveries go smoothly but unless you pay attention your delivery can go awry.
In particular London and the major cities can cause problems; Friday traffic, road restrictions aswell as out in the coutry with; over-hanging trees, narrow country lanes etc.
You need to give us as much information as you can and if you have not marked your order as 'Can leave safe' during checkout someone must be present to sign and take delivery.
The site contacts phone must be switched on just in case the delivery driver can't find you or if they are 'around the back' doing work it can help to put a sign up too.
If we deem you have not taken due care for taking delivery and the goods get taken back to the local depot for re-delivery we reserve the right to pass on the charges.
DISCLAIMER:
The information provided by Matclad Limited ("we", "us", "our") on www.matclad.co.uk (the "Site") is for general informational purposes only. All information on the Site is provided in good faith, however we make no representation or warranty of any kind, express or implied, regarding the accuracy, adequacy, validity, reliability, availability or completeness of any information on the Site.
Read our Terms and Conditions of Sale